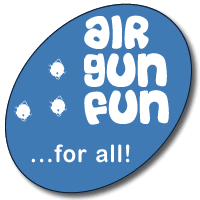 Here are more pictures of AIR GUN FUN from all over the world. I will post yours too if you want to submit them.
Below you will find pics from fellow air gun hunters around the world...

THE PAGE IS GRAPHIC INTENSVIE WITH ALL THESE PICTURES. PLEASE BE PATIENT WHILE THEY ARE LOADING.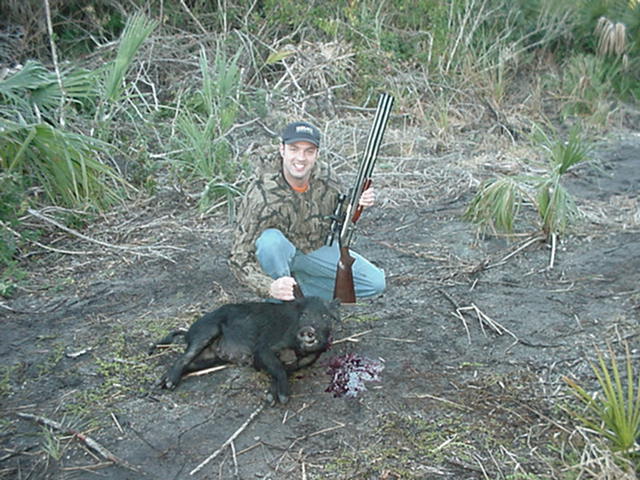 I recently went on a wild boar/hog hunt in the Florida Everglades. I took this 130 lb. sow, I used my Big Bore 44, with a 130 grain bullet. It was a one shot kill at 20 yards. The gun has had no modifications other than adding a scope. I am a big bore junkie, I own a 9 mm Career, Big Bore 44, 28 gauge stainless air shotgun, and a 20 gauge double barrel LD air shotgun.
Duke Cabin
Grand Island,NY,USA
Tom Anderson's Customized QB-78

My QB-78 in .177 that I have been fooling with for several years. This pic can be credited to Marty McNaughton.
The gun wears a custom stock that I bought from Ron Robinson ('The Manic Compressive' book author), a Jim Macarri muzzle weight ( to correct percieved muzzle lightness) and is very mildly tuned (by myself) for accuracy. It sports a Swift 4-12x40 in BKL mounts that I bought from Marty. I can't overstate what a value these scopes represent. It is boringly accurate with almost anything I can stick in it. Because of the accuracy, not the power, it is suitable for quarry up to Gray Squirrel and cottontails, but is used mostly to punch little round holes in paper. (Usually one little round hole despite the number of shots if I do my part.) The QB-78 represents the most accuracy per dollar of anything available in my opinion as well as others. They are available from Fun Supply and others for approximately $80.

The Oak workmount it sits in was built by a friend (Thank you Don) and the assemblage sits atop a portable shooting bench I made with a piece of scrap plywood and a folding sawhorse.
HTH,
Tom Anderson








Marty MacNaughton's Tricked Career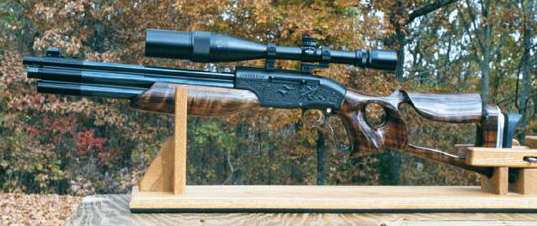 The Stock is a Figured quarter sawn black walnut blank purchased from Wrights gunstocks. The rear stock was roughed in by Dave G, the forearm is my design. It to sits atop of the work vise owned by Tom Anderson. The
picture was taken at Tom's place atop "Buzzard Bluff " in Arkansas.

The gun has my own fill port and trigger modifications. The gun does have the full Power Wheel mods, but is not regulated. It is set up to shoot the Beeman Crow Mag pellets. Scope is a Swift 669MTA 6-18x44mm in BKL reach
forward mounts. The butt pad is a Morgan adjustable with the cup shaped rubber pad. It currently sports 20 coats of Minwax Tung oil, and will receive at least 10 more coats as soon as I can bring myself to take itapart again.