NEW SITE FOR Air Gun Fun for ALL..
Due to increased traffic and desire to have my own domain for freedom of expression,
I have made a new Air Gun Fun Site. Please Update Your Links to new url.
All new updates will be posted on new site. Below is new link to save.

Welcome Shooters of All Ages to...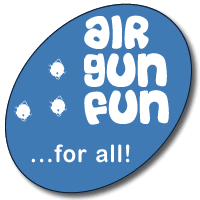 Whether you are Young or Old Pro, Air Gun Fun offers a great hobby for you... From my earliest recollections of my first time shooting an old Red Ryder unto today with my RWS34N, I have nothing but fond memories of air gun shooting.

Everyone knows how to do something. Whether it's playing a guitar, gardening, carpentry, fly fishing, hunting big game, or AIR GUN FUN...we've all acquired certain skills in our lives, and it's only right that we should want to share the results of our hobby and also share what we've learned about how to do it well.

This page is devoted to make it easier for one to obtain information on the hobby of Air Guns. Whether you are interested in backyard plinking, field target, hunting or whatever, I hope you find this site to be a valuable aide to you.

Be sure to check all the links on this page to discover literally a world of information on the subject on Air Gun Fun. Contributions have been made from around the globe from fellow Air Gunners.

Be sure to check out the pics of fellow air gunners from all over the globe!!